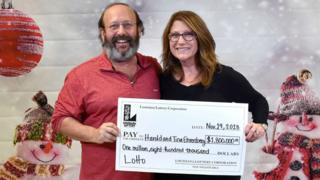 A Louisiana couple have more than a million more reasons to be thankful after finding a winning lottery ticket while cleaning up for Thanksgiving.
Tina Ehrenberg said she found a stack of lottery tickets on her nightstand while she was making sure her home was spick and span prior to receiving family for the American holiday.
One of those tickets won her and her husband a $1.8m (£1.4m) jackpot.
The winning ticket was found about two weeks before it was set to expire.
It was from the 6 June draw and had to be claimed within six months.
"We kept checking the numbers again and again," Harold Ehrenberg told the Louisiana Lottery Corporation.
He said he kept expecting something to go wrong before they were able to officially claim the prize.
The couple are from Mandeville, a small town about 75 miles east of the state capital of Baton Rouge.
They netted $1.3m after state and federal taxes, and say they plan to put the winnings away for retirement.
"We don't have any plans to buy anything crazy or go on any big trips," Ms Ehrenberg said.
Mr Ehrenberg said "the most fun is going to be depositing that cheque".